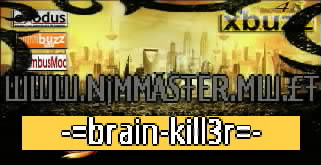 NIMBUZZ
---

---
☺COMANDO ROOM FLOOD BLOCKER SETTINGE☺
---
(1) USER NAME= king_comando (2) PASSWORD :ur nimbuzz id password= ****** (3) SERVER= NIMBUZZ.COM(4) HOST ip= OPENFIRE.NIMBUZZ.COM SAVE OK AND CONNECT AFTER CONNET THEN GO TO OPTOINS TOOLS SELECT ADVANCED BLOCKER OPTOIN SET THERE JUST 2 OPTOINS[]-> MARK ROOM CENSOR FLOOD CENSOR BLOCK FLOOD (;)kick;abuse;abuse; abuse;abuse;love; wink;abuse; abuse; JUST SET 2 OPTOIN 1 MARK ON ROOM CENSOR FLOOD 2ND CENSOR BLOCK FLOOD PUT THERE CHEP &ABUSE WORDS UR TAREGT ID THEN OK SAVE AND EXIT YOUR comando ROOM . FLOOD . BLOCKER AND OPEN AGAIN AND JOIN ROOM WITH OWNER ADMIN ID USER SEND MESSAGE 2 ROOM YOUR CENSOR WORD GOT AUTO KICK ITS REALY TRY AND ENJOY. .

DOWNLOAD_HERE
WORK 100%
---
CHANGE CLIENT VERSION
---
---
FRIENDS HERE ME UPDATED comando FAST XML CONSOLE SMALL SIZE 285 KB & NO VERSION CLIENT WITH DC JABBER USERS VCARD THIS IS FAST FOR XML CONSOLE ENJOY nimbuzz. .
---

DOWNLOAD HERE
100%WORK
---
♣ƒor more♣
CONECT WITH ME -=brain-kill3r=-@nimbuzz.com